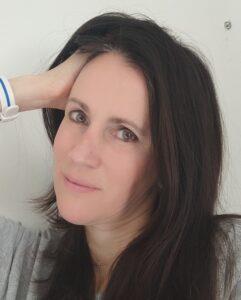 MONICA: I am a Holistic Health & Regenerative Detoxification Practitioner. I received my training as a Holistic Life Coach at the UK College of Holistic Training, and I received my training as a Regenerative Detoxification Specialist from Dr. Morse N.D. at the International School of Detoxification. I have always taken a holistic approach to spirituality and the body, and have sought out the real reasons underlying dis-ease of the body, and subsequently healing it the natural way. For those who speak Dutch, I have written a book on the topic of Regenerative Detoxification called "Van Detox naar Regeneratie" available in paperback, eBook, and PDF.
THE NEXT LEVEL OF HEALING: My method is based upon Dr. Morse's teachings, which promotes healing the body through a raw food diet and herbal formulas. I work with a health questionnaire, as well as anything else the client tells me about their health issues. Additionally, I employ lymphatic iridology to find out the underlying physical causes of my client's health problems.
MY VISION: As humans, we are energetic beings with a physical, emotional, mental and spiritual body. With that in mind I do mostly look at healing the body physically but also don't forget the emotional and mental aspects that can influence the body physically. However it is possible through true detoxification to also have an effect on our emotional and mental bodies and because of the high energy intake of fruits and herbs it will also open us up to be more spiritually connected. I love helping people on their path to true health.
ABOUT MY SERVICES: My sessions are mostly based on natural healing through detoxification and herbal formulas. I offer Regenerative Detox sessions with or without lymphatic iridology, however, lymphatic iridology does allow me to confirm my suspicions as to why some of the health symptoms are there in the first place. Together, we will discover the physical root causes of your health problems, so that you can know what glands, organs and body systems are weak, and therefore what remedies you need to employ in order to restore your health. Through lymphatic iridology, I can also discover the level of lymphatic congestion and weaknesses in your body, which gives me further clarity into your condition.
Please fill out the contact form below to schedule a free 20 minute consultation.
---
CONTACT MONICA AND SCHEDULE A COMPLIMENTARY 20 MINUTE CONVERSATION
---
*please note, all sales are final