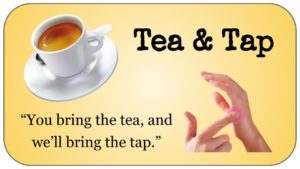 I'm Nathan from the Unity Process and the Divine Pollination Hive, and I'm creating a new monthly subscription service for those who are interested in working with me on a regular basis in an individual and/or group setting.  Please see the options below, and if you're interested in joining me, fill out the contact form at the bottom and I'll provide you with the details within a day on how to pay (via PayPal), as well as links and scheduling for individual and/or group sessions in the American region's time zone.
Tier 1: For $25 USD (€22 EUR) a month, you get:
Two Tea & Tap group emotional processing sessions. We use the Unity Process and the Emotional Freedom Techniques (EFT meridian tapping) to set boundaries, come up with affirmations, find meaning, and correct limiting beliefs in a group setting. Join me every second and fourth Wednesday of every month at 8:00 PM Eastern.
$35 USD off of individual sessions (normally

$150

per one 60 minute session, now $115 each), and the five session minimum for purchasing the first session is waived.
25% discount on classes with Nathan.
$10 USD discount ($13 AUD) on my carefully crafted self-hypnosis MP3's, normally

$35

, now $25 USD each (€22 EUR AUD).
Tier 2: For $100 USD (€84 EUR) a month, you get everything listed above, and:
One 60 minute individual session, normally $150

,

$115

after Tier 1 discount

, but now $75 USD (€63 EUR) a month with subscription.
---
About me: Nathan (along with the help of his former partner Aline Van Meer) created an integrative methodology called the Unity Process, which combines Natural Law, the Trivium Method, Socratic Questioning, Jungian shadow work, and Meridian Tapping—into an easy to use system that allows people to process their emotional upsets, work through trauma, correct poor thinking, discover meaning, set healthy boundaries, and refine their viewpoints. We practice it together in our groups, and in our individual sessions.
---